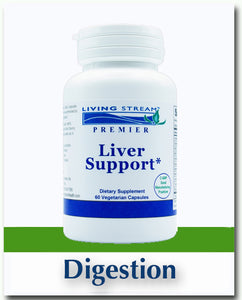 Liver Support
Living Stream Premier Liver Support is a proprietary blend of selected herbs and botanicals, designed to detoxify the liver and allow it to function more efficiently.
Living stream Premier Liver Support provides gentle cleansing and rebuilding with important medicinal herbs such as Dandelion Root Extract, Milk Thistle Seed and Tumeric. Added support is introduced with the powerful nutrient N-acetyl-L-cysteine. NAC is an amino acid precursor to Glutathione, a critical antioxidant in the body. 
Contains no gluten, no sugar, preservatives, artificial colors/flavoring or additives, no wheat/yeast, corn or dairy. GMO Free. This product contains natural ingredients; color variations are normal.
*
These statements have not been established by the Food and Drug Administration.This product is not intended to diagnose, treat, cure or prevent any disease.