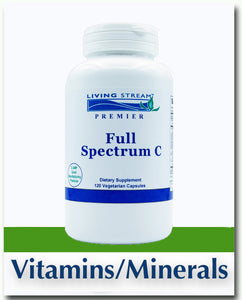 Full Spectrum Vitamin C Capsule
Living Stream Premier Full Spectrum Vitamin C is a natural supplement that offers a unique antioxidant combination of potassium and magnesium ascorbate, calcium amino acid chelate (taste free), Camu Camu Berry Powder and many other antioxidant ingredients.
We found that this powerful combination, allows the body to function at its optimum. Camu Camu and Indian Gooseberry are valued for their exceptionally high Vitamin C content. The Camu Camu fruit is native to the Amazon Rainforest and contains powerful phytochemicals with various health benefits. Indian Gooseberry probably the richest known natural source of Vitamin C, readily assimilated by the human system.
Contains no gluten, no sugar, preservatives, artificial colors/flavoring or additives, no wheat/yeast, corn or dairy. GMO Free. This product contains natural ingredients; color variations are normal.
 *These statements have not been established by the Food and Drug Administration.This product is not intended to diagnose, treat, cure or prevent any disease.