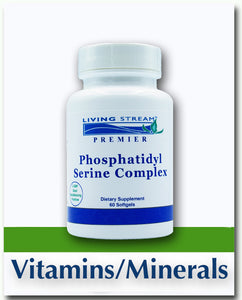 Phosphatidylserine
Phosphatidyl Serine, (PS) is a phospholipid nutrient vital to our brain cells. It is an essential building block of cell membranes. PS may enhance communication between cells in the brain by increasing the number of membrane receptor sites.Scientific studies have demonstrated that PS restores the brain's supply and output of acetylcholine, an important neurotransmitter to memory. Phosphatidyl Serine functions to promote learning and intensify concentration.
Living Stream Premier Phosphatidyl Serine Complex is offered in a softgel capsule and contains, no added sugar, starch, preservatives, artificial sugar, starch, preservatives, artificial colors, flavors or additives, corn, wheat yeast or dairy.
Contains no gluten, no sugar, preservatives, artificial colors/flavoring or additives, no wheat/yeast, corn or dairy. GMO Free. This product contains natural ingredients; color variations are normal.
*These statements have not been evaluated by the Food and Drug Administration.This product is not intended to diagnose, treat, cure or prevent any disease.