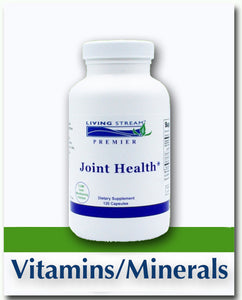 Joint Health
Glucosamine is a compound found naturally in the body, made from glucose and the amino acid glutamine. Glucosamine is needed to produce glycosaminoglycan, a molecule used in the formation and repair of cartilage and other body tissues. Production of glucosamine slows with age.
Chondroitin sulfate is another natural substance found in the body. It prevents other body enzymes from degrading the building blocks of joint cartilage.
MSM, methylsulfonylmethane provides sulfur, a vital building block of joints, cartilage, skin, hair and nails, which support many vital biochemical processes in the body, including energy production. MSM is a naturally-occurring nutrient found in small amounts of many foods. As a dietary supplement, MSM is synthesized. 
Contains no gluten, no sugar, preservatives, artificial colors/flavoring or additives, no wheat/yeast, corn or dairy. GMO Free. This product contains natural ingredients; color variations are normal.
*These statements have not been established by the Food and Drug Administration. This product is not intended to diagnose, treat, cure or prevent any disease.