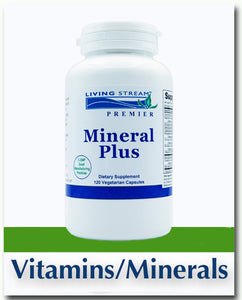 Mineral Plus
The Living Stream formula contains chelated minerals from Albion Laboratories. This lab holds 40 patents on this process, which involves the bonding of an amino acid to a mineral in the same way nature does it. Chelazome and chelavite minerals (Albion trademarks) are 3-6 times more absorb-able than mineral salts and are much better retained and utilized in the body.
Minerals can really give your body a boost. They are the building blocks of life, and make up part of the necessary elements of body tissues, fluids, and other nutrients. Essential to bone formation and bone health, they allow the body to absorb nutrients. Premier Mineral Plus contains all essential minerals, plus a sufficient amount of calcium, combined with D3 for optimum bone health.*

Contains no gluten, no sugar, preservatives, artificial colors/flavoring or additives, no wheat/yeast, corn or dairy. GMO Free. This product contains natural ingredients; color variations are normal.
*These statements have not been established by the Food and Drug Administration. This product is not intended to diagnose, treat, cure or prevent any disease.