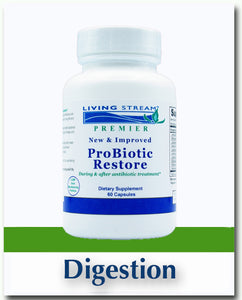 Probiotic Restore
Living Stream Probiotic Restore

~New and Improved! 
Living Stream Probiotic Restore is  a new and improved formula, 60 billion high-quality beneficial bacteria. Our probiotic formula contains eight strains, plus Saccharomyces Boulardi and Larch Arabinogalactin as a prebiotic. The pre and probiotic strains are contained in an acid resistant, delayed released capsule to protect against stomach acid.

Our goal is to provide the consumer a most viable, high potency probiotic formula. Manufactured in a US FDA, GMP compliant facility. Testing is done in various stages of the production.
A diet high in sugar or the use of antibiotics, exposure to toxic metals or the use of non-steroid inflammatory drugs can all increase your chances of intestinal flora imbalance. Healthy gastro-intestinal microflora play a key role in strengthening the digestive system and enhancing immune response.*
 
Contains No Added:  Dairy, Yeast, Wheat, Gluten, Corn, Soy, Preservatives, Artificial Colors of Flavors. The quantities for these strains were determined based on data generated from clinical studies.*
*These statements have not been evaluated by the Food and Drug Administration.This product is not intended to diagnose, treat, cure or prevent any disease.
Save